A Refreshing Outlook, Quality Workmanship and High Standards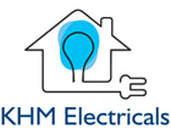 ​
​
​
Working from an enhanced multi-skilled building background, with proven
www.checkatrade.com/KhmElectricals/
MYBUILDER
and
RATEDPEOPLE
FIVE STAR
feedback, We are able to supply & fit, install and enhance all domestic electrical requirements. We have land-line and mobile contact numbers so we never just vanish like some others, you will always be able to contact us. Also through our contacts we are also able to provide total solutions with Tiling, Plastering, Bathroom fitting, Please just ASK for details.
No matter if it's a new build project to fitting that new light fitting that was brought a month ago, We will adapt to your needs.
Prices are kept to a minimum and we are proud to honour our commitment to keep costs low whilst using quality parts.
The 17th Edition and Part P is just the legal side of being able to meet your needs. We will be able to design what you need based around local regulations and install to the agreed timelines.
Both minor and major work certificates issued, backed by warranties and insurance, to ensure you receive the standard of workmanship and compliance required.
Please either call or use the
contact form
and I will respond ASAP.
Appointments are kept and honoured. No more waiting around for people to just arrive Late!
e-site-verification: google1e76741b8f817bc3.html
---